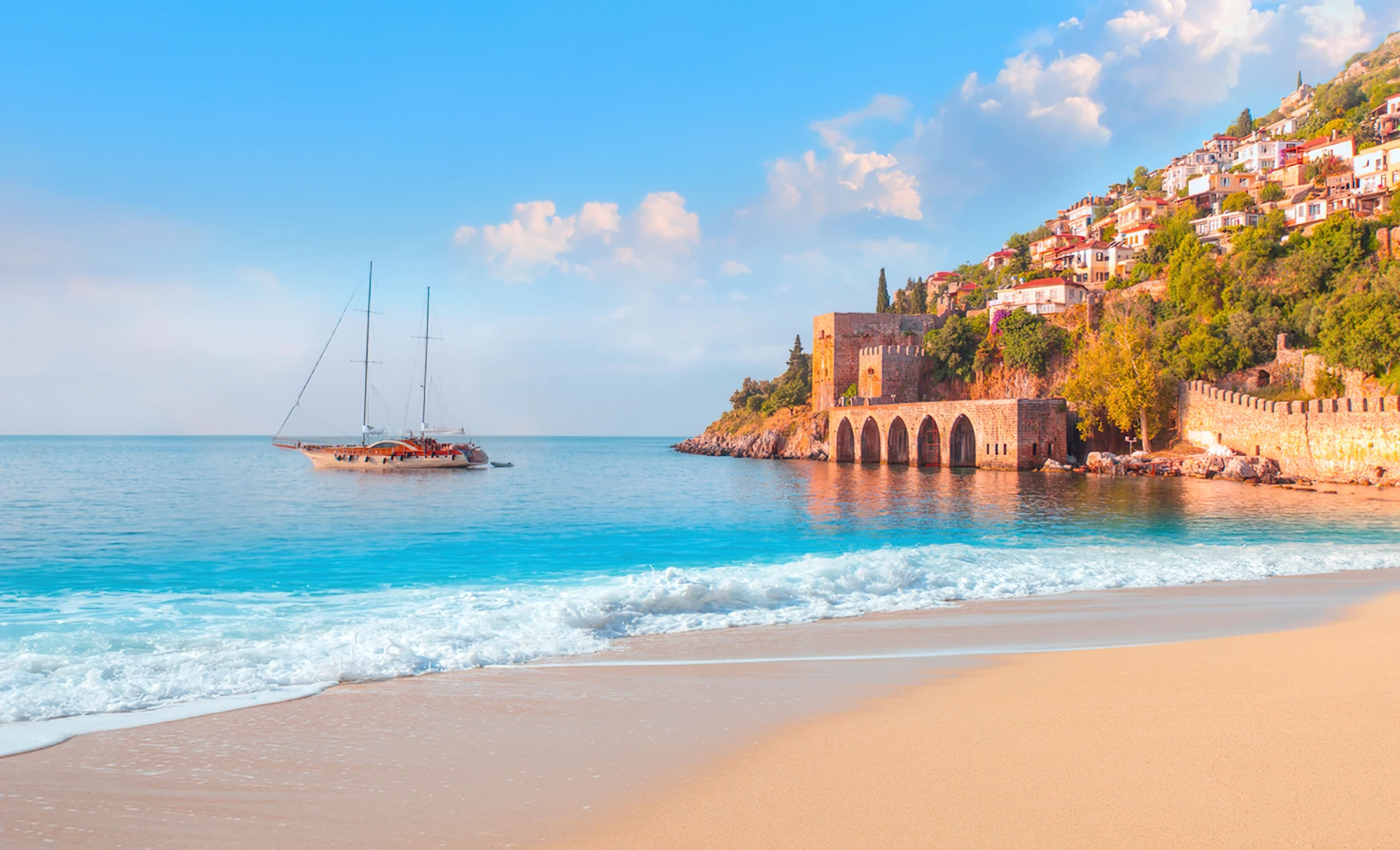 Alanya
Alanya
Alanya is one of the most popular tourism resorts not only in Antalya, the city center to which it is affiliated, but also in Turkey.
Alanya, which is 154 kilometers away from the city center, is in the form of a small peninsula on the coastlines of the Mediterranean region due to its current location. The district attracts thousands of local and foreign tourists every year with its values.
When to go to Alanya for a holiday?
If you are considering the best time to go on holiday to Alanya, you can decide in line with your preferences and expectations. While the district, which has a Mediterranean climate, spends its busiest times in the summer months, this density decreases in the spring months when the air temperatures have not increased yet. Therefore, if you want to take a sunbath and cool off in the deep blue sea, you can choose the spring months if you are planning a holiday in a calm environment accompanied by the scent of spring.
How to go to Alanya?
"How to go to Alanya?" If you think that, you should choose one of the air or road methods. For transportation by air, you must first choose one of the companies that organize flights to Gazipaşa Airport and land in the region. Afterwards, you can reach the municipality buses or Havaş shuttles within the district. For land transportation to Alanya, you can directly reach Alanya Bus Terminal by choosing one of the bus companies that organize services from almost every city.
Transportation in Alanya
Municipal buses, which organize frequent trips, are generally used for transportation within Alanya. In addition, if you wish, you can take advantage of the taxi service or you can prefer car and bicycle rental methods.
Places to Visit in Alanya
Alanya has a very rich natural and historical heritage in terms of places to visit. The district contains many beauties from blue flag beaches to untouched coves, from magnificent caves to ancient cities. If you want to spend every moment of your Alanya holiday to the fullest, we have prepared for you.
List of must-see places in Alanya:
Alanya Castle
Alanya Castle was built on a high peninsula by Alaaddin Keykubat in the 13th century. The castle, which reached its current form during the Seljuk period, bears the traces of many civilizations. Alanya Castle, where you can admire its magnificent structure, is located approximately 4 kilometers from the center.
Alara Castle
Alara Castle was built in 1232 by Seljuk Sultan Alaeddin Keykubad I. The castle on the Silk Road was built to ensure the safety of the caravans. The castle, which contains the chambers of its officials, the palace and the Turkish bath, is located approximately 40 kilometers from the town center.
Ehmedek Castle
Ehmedek Castle was built by Alaaddin Keykubat I to prevent attacks from land. The castle, which consists of two separate sections with three towers, is located approximately 3 kilometers from the center.
Alanya Archeology and Ethnography Museum
Alanya Archeology and Ethnography Museum was built in 1967 to exhibit historical remains from many civilizations, especially the Greeks, Byzantines, Romans and Lydians. The statue of Heracles, one of the most important works found in the region, awaits its visitors in the museum.
Red Tower
The Red Tower has a height of 33 meters and an octagonal architecture. The tower, consisting of five floors, was built by Sultan Alaaddin Keykubat for the sake of security. The tower is located about 2 kilometers from the center.
Hıdrellez Church
Although the exact date of construction of the Hıdrellez Church is not known, it was restored in 1873. The church called Hıdrellez Church by Muslims and St. Georgi Church by Christians is located 10 kilometers from the center.
Damlatas Cave
Damlataş Cave was found on the west coast of Alanya Castle, during the construction of Alanya Pier. It is known that the cave, which is about 10 times more humid than normal, is also good for asthma. Damlataş Cave, named after the water drops dripping from the stalactites, is Turkeys first cave opened to tourism. The cave is located 3 kilometers from the center of Alanya.
Phosphorous Cave
Phosphorus Cave, being a sea cave, is flooded with tourists every year. You should definitely enjoy swimming in the clean waters of the cave, which can be reached by small boats.
Dim Cave
Dim Cave was used as a shelter by the people of its time. Today, Dim Cave, which is the first cave opened with a private initiative in Turkey, was opened to visitors in 1998.
Dim Stream
Dim Stream is one of the greatest gifts nature has given us. Offering endless peace and tranquility to its visitors, tea offers services to meet every need with its restaurants, picnic areas and hostels.
Alanya Beaches
Alanya Beaches have unique beauties with the most beautiful shades of blue and green on the coastline of approximately 70 kilometers. The region, which has many natural wonders from popular beaches to pristine beaches, offers peace, tranquility and fun.
Cleopatra Beach
Cleopatra Beach is one of the most popular beaches of the region with its 3 kilometers long sandy beach, fine sand structure and clear sea. Surrounded by lush trees, the beach stands out with its blue flag. Cleopatra Beach, which has facilities where you can meet your food and beverage and personal needs, is also ideal for families with children with its shallow sea.
Kargicak Beach
Kargicak Beach is less crowded than other beaches due to its rocky and wavy structure. We recommend that people who cannot swim and families with children be careful on the beach, which is preferred by those who want to swim in a secluded sea. Kargicak Beach is located approximately 16 kilometers from the center.
Orange Beach
Orange Beach; It is one of the most preferred beaches of the region with its central location, convenient transportation facilities and golden sandy beach. The beach, which has facilities around it where needs such as food and beverage can be met, is located 3 kilometers from the center.
Koru Beach – Natural Pools
There are many natural pools, three of which are larger, formed by the mansion stones at Koru Beach. In order to witness the fascinating beauty of underwater creatures on the beach, we strongly recommend you to bring sea goggles with you. Koru Beach is located approximately 45 kilometers from the center.
Incekum Beach
Incekum Beach, with its golden and thin sandy beach, shallow sea structure and 1-hour coastline, has areas where you can enjoy the sea and camp for a day. There are also facilities where you can meet your needs around the beach, which is approximately 25 kilometers from the center.
Activities to Do in Alanya
Alanya offers many options in terms of activities that can be done. You can explore its historical buildings and enjoy the sunny weather on its unique beaches. You can make a camp in touch with nature or take a boat tour and witness its natural beauties. Activities you can do in Alanya:
Boat tour
Water sports
Museum and historical site tour
Cycling tour
Nature trip
Camp
Shopping in Alanya
There are many places to shop and buy gifts for your loved ones in Alanya. in Alanya; You can reach fresh and local products from the district markets established on certain days, souvenirs from the shops in the bazaar, and global brands from the shopping centers. Some shopping centers in Alanya:
Megamall AVM
Neva Outlet
Konakli Time Center
Nightlife in Alanya
Nightlife in Alanya is as intense and active as it is during the day. The district, which takes the pulse of summer tourism, offers many options for those who want to spend every moment of their holiday to the fullest. You can double your holiday pleasure by choosing the one that suits your taste from dozens of options, from stylish restaurants to nightclubs offering unlimited entertainment, from cafes with live music to concept bars.
Popular entertainment venues of Alanya:
Havana Club
Auditorium Club
Robin Hood VIP
Murphys Bar
Aloha Tiki Bar
Las Vegas Cafe & Bar
Alanya Holiday Advice
If you prefer hotel accommodation during your Alanya holiday, we recommend you to choose facilities close to the center. Therefore, you can spare plenty of time to discover the beauties of Alanya. During these times; Damlataş Beach, Tophane, Historical Alanya Shipyard and Sapadere Canyon are the places we recommend you to see.