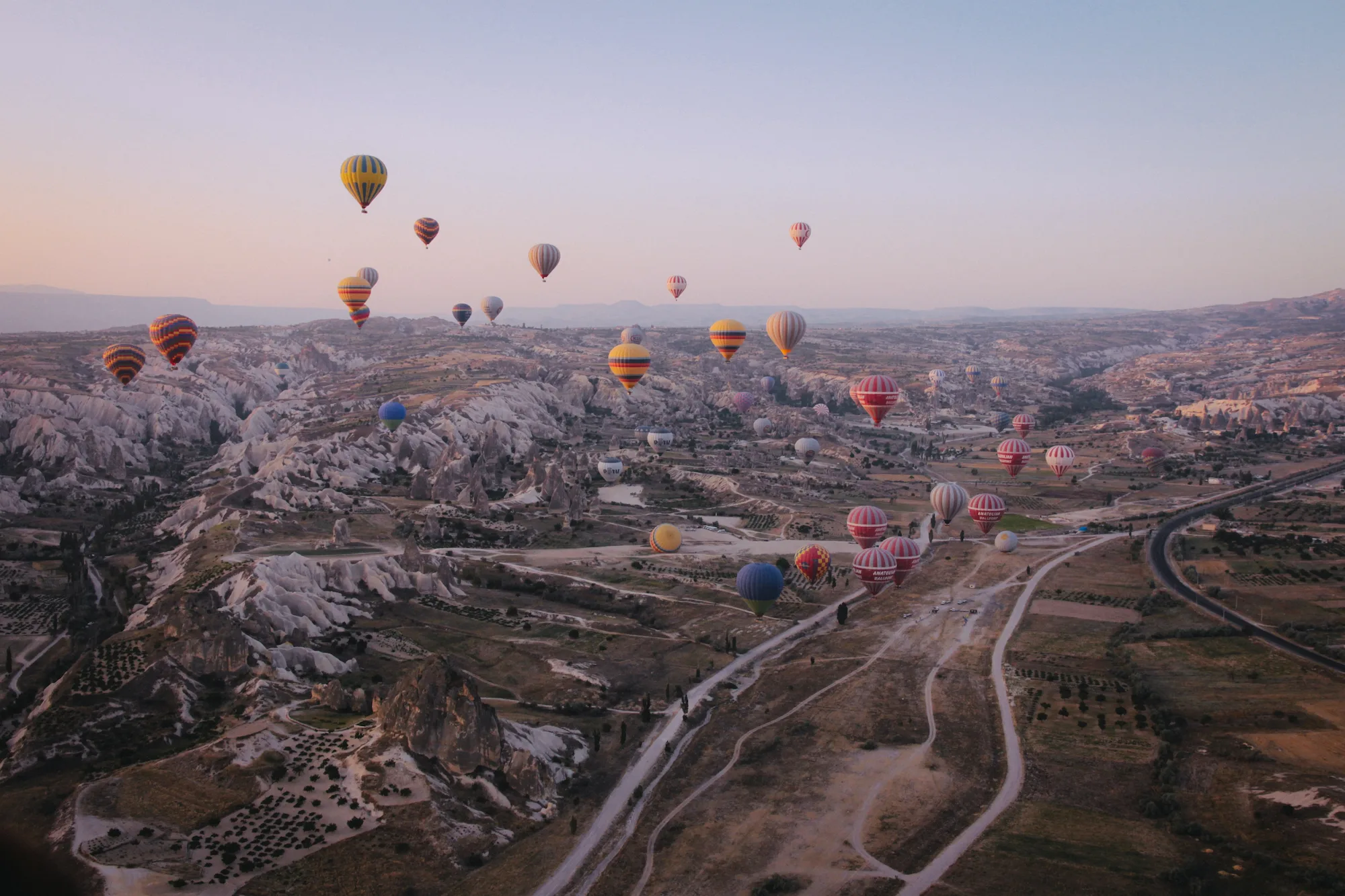 Cappadocia
Cappadocia
With its rich culture, deep-rooted history and natural heritage, Cappadocia welcomes thousands of local and foreign tourists every season. Cappadocia, which is on the UNESCO World Cultural Heritage List with its values, is a rare natural wonder.
Cappadocia, an inland sea 60 million years ago, dried up with lava spewed by volcanoes. Afterwards, the structure shaped by natural events such as wind, flood, erosion, and rain took the shape of a cone. Thanks to the soft texture of the building, people who carved for shelter decorated the walls with religious figures. Cappadocia is a mystical tourism centre that amazes those who see it.
How to go to Cappadocia?
How to get to Cappadocia? There are several alternatives to answer the question. To provide transportation by road, you should choose one of the bus companies that organize flights from almost every city to Nevsehir and go to Nevsehir Bus Terminal. For air transportation, you should land at Erkilet Airport in Kayseri, which is the closest airport to the region. Afterwards, you can reach Cappadocia by shuttles or taxi.
Places to Visit in Cappadocia
Cappadocia has a lot of options in terms of places to visit. of Cappadocia: Regions such as Urgup, Goreme, Uchisar, Avanos, Ortahisar contain many historical and natural beauties that will allow you to spend your trip to the fullest. Places to visit in Cappadocia where you can admire every detail from churches to valleys, from underground cities to tombs:
Hope Hill (Temenni Tepesi)
Temenni Hill was built in the name of 4th Kilicaslan and 3rd Keykubat, who are known to have been killed in Urgup in the 13th century. This hill, where you can watch the panoramic view of Urgup, is approximately 50 kilometres from the centre of Cappadocia.
Kizilcukur Valley
Kizilcukur Valley got its name from the scarlet tuff rock formations that are rare in the region. We recommend you visit the Uzumlu Church at the entrance and the magnificent view of the Kizilcukur Valley at sunset. The valley is located 55 kilometres from the centre of Cappadocia.
Ihlara Valley
Ihlara Valley is one of the largest canyons in the world with a length of 18 kilometres. The tranquillity of the Melendiz Stream in the region and the magnificent view of the valley fascinates its visitors.
Goreme Gulludere Valley
Goreme Gulludere Valley was included in the UNESCO World Heritage list in 1985 with its natural beauties. The history of the region covered with fairy chimneys and valleys dates to the Chalcolithic Age.
Dark Church (Karanlik Kilise)
The Dark Church has been recognized as the best-preserved church in the region. Known to be a structure of the 11th century, the Church is a structure worth seeing with its colourful frescoes, although it has been destroyed until today.
Gulludere Valley
Gulludere Valley is one of the most beautiful spots where you can watch the sunset. There are Three Cross Church, Anna Johachim Church, Cross Church, Ayvali Church, and Direkli Church in the valley. Spreading over a wide area of 4 kilometres, the valley is also an ideal spot for those who want to do trekking. ATV and horse safari tours are also organized in the region. Gulludere Valley is located approximately 60 kilometres from the centre.
Three Beauties (Uc Guzeller)
Three Beauties is the place where fairy chimneys with hats can be seen most clearly with its structure that is the subject of legends. Three Beauties, considered the symbol of Cappadocia, is located approximately 50 kilometres from Cappadocia.
Thuja Underground City (Mazi Yeralti Sehri)
Four entrances to Mazi Underground City were found at different points. There are animal barns, churches, wineries, tombs, and many rooms inside. Mazi Underground City, where manpower can be seen in every detail, is approximately 35 kilometres from the centre.
Haci Bektas-i Veli Tomb
The famous thinker of Islamic history, Haci Bektas-i Veli, established the Haci Bektas-i Veli Tomb as a convent to spread his thoughts. Today, there are structures worth seeing such as Crown Gate, Ucler Fountain, Soup Kitchen, and Cilehane inside the tomb, which is opened to visitors as a museum.
Avanos Swinging Bridge
Avanos Swinging Bridge was built in 1973 to cross the Kizilirmak. You can make a wish by hanging a lock on the bridge for commemorative purposes and leave a memory in Cappadocia.
Asmali Mansion (Konak)
Asmali Konak is the mansion where the popular TV series of the 2000s, "Asmali Konak" was filmed. The mansion impresses not only the locals but also foreign tourists with its authentic architecture. Asmali Konak is located approximately 50 kilometres from the centre.
Zelve Open Air Museum
Zelve Open Air Museum is in Zelve Valley, which is the longest settlement of the region. There are historical structures such as rock churches, mosques, tunnels, and monasteries in the museum. Zelve Open Air Museum is located approximately 60 kilometres from the centre.
Sobesos Ancient City
The Ancient City of Sobesos is the Roman City whose name was mentioned in ancient sources but could not be found until 2022. In the ancient city of Sobesos, which was discovered by chance, there are structures such as a tomb, administrative centre, and bath complex.
Uchisar Castle
Uchisar Castle, BC. It was built for defence purposes in the 17th century. There are secret roads, tunnels, rooms, and tombs in the castle. Uchisar Castle, which has a unique view of Cappadocia, is approximately 70 kilometres from the centre.
Entertainment in Cappadocia
Entertainment life in Cappadocia offers alternatives suitable for all ages, budgets, and tastes. Many venues serve in Cappadocia, from Turkish nights promoting the culture of the region to rock bars with unlimited entertainment. Entertainment venues in Cappadocia:
Angel Cafe Bistro Bar

Club Tren

Joy Bar & Cafe

One Way

Asims Place

Cellar Wine House
What to Eat in Cappadocia?
What to eat in Cappadocia? If you think so, there are many local flavours that you will not be able to taste. Local dishes unique to Cappadocia, where you will have local breakfasts against peaceful landscapes and have a feast of taste in the restaurants inside the cave:
Pot Beans (Comlek Fasulyesi)

Chickpea Stew (Nohutlu Yahni)

Gendime

Soup with Milk (Sutlu Corba)

Nevsehir Ravioli

Divil

Stuffed Quince (Ayva Dolmasi)

Testi kebab
Activities to Do in Cappadocia
The activities to be done in Cappadocia are quite diverse. You can add excitement to your holiday by participating in a safari tour, while you have an atmosphere that you will be enchanted by just walking. You can witness history in open-air museums or sip your drink against the view at sunset. Activities to do in Cappadocia for those who want to evaluate every moment of your holiday:
Balloon Tour

Exploring the Valley and Fairy Chimneys

Safari Tour

Visit the Ceramics and Pottery Workshops

Day Trips

Horse Safari

Museum Trip

Visit Underground Cities
All Inclusive Cappadocia Hotels
All-inclusive Cappadocia Hotels offer many services free of charge that will make your holiday comfortable. Cappadocia hotels: invites you to a holiday where you will wake up to peaceful mornings in a mystical environment, witness unique views, experience delicious food, and have fun.
fmt.cappadocia.content5