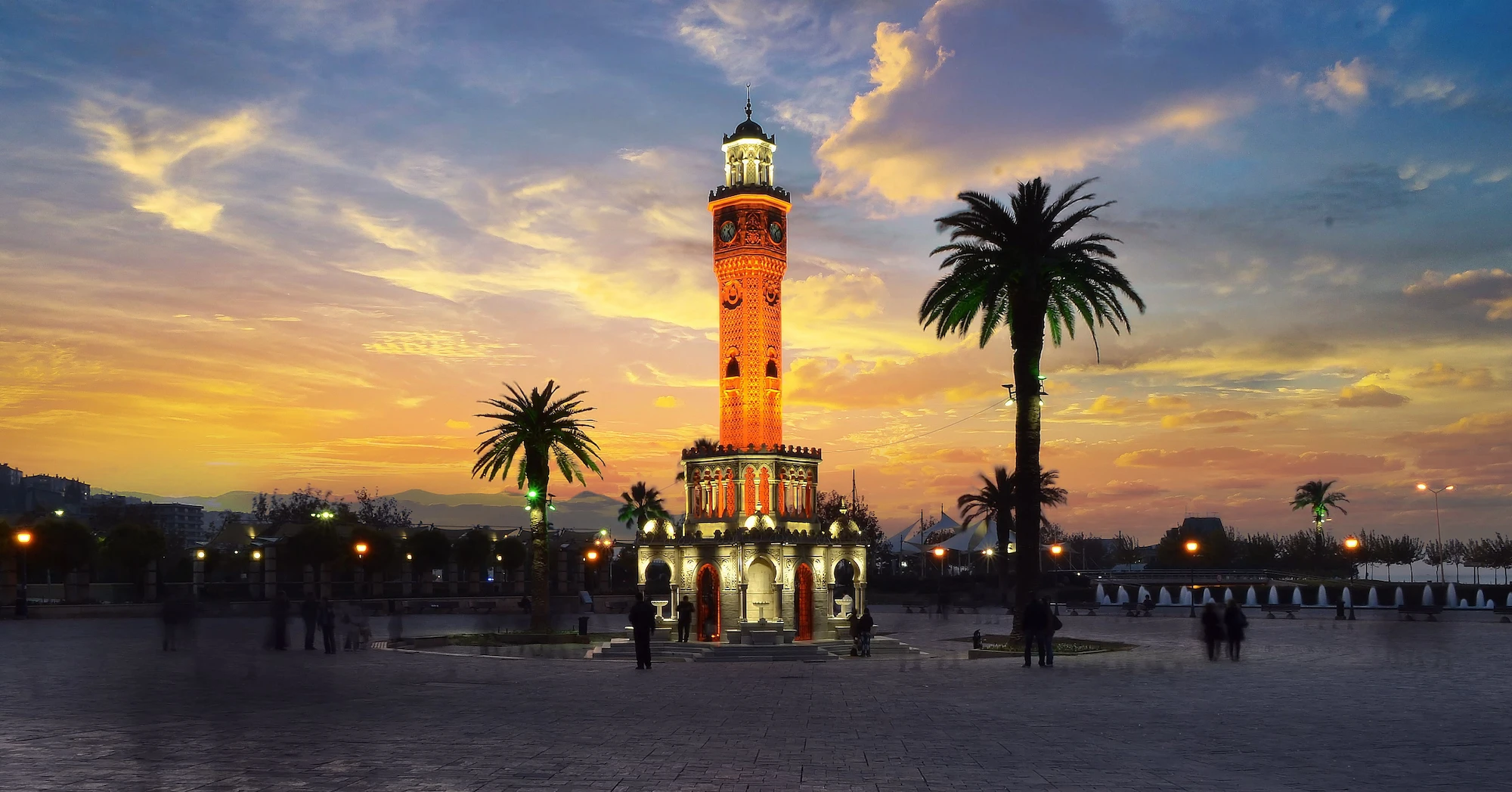 Izmir
Izmir
Considered as the capital of the Aegean Region, Izmir is the third city with the largest population in Turkey. History BC the city, which dates to 3000 BC, has hosted many civilizations with different cultures and beliefs. Izmir has an important potential in summer tourism with its suitable climatic conditions, natural and historical beauties, and adequate metropolitan services.
When to go to Izmir for a holiday?
While the density of holidaymakers is experienced in Izmir during the summer months, this density decreases in the winter months. If your preference is for a quieter holiday, you may prefer the spring months when the scent of flower dominates the city, and the heat does not disturb.
How to go to Izmir?
It is possible to provide direct transportation to metropolitan city of Izmir, which has a very wide transportation network, by air, road, and railway methods.
Air transportation: Transportation to the city centre from Adnan Menderes Airport, which is 18 kilometres away from the centre, is provided by Havas shuttles or municipal buses.
Land transportation: Transportation to IZOTAS Izmir Bus Terminal, which is 8 kilometres away from the centre, is provided by bus companies that organize direct journeys from other major cities.
Railway transportation: With the Izmir Blue Train line, train transportation is provided from Ankara, Kutahya, Eskisehir, Balikesir, and Manisa provinces to Izmir.
Places to Visit in Izmir
The historical and natural beauties of Izmir, Turkey's most important trade, fair, and student city, that you must see:
Agora Ancient City
History it is known that the Izmir Agora, which dates to 2 centuries, was built during the Roman Period. The ancient city, which also includes the Agora, has one of the largest theatres in the world. Artifacts unearthed from the Agora during the excavations still going on today are exhibited in the Izmir Archaeology Museum, History and Art Museum
Pergamon (Bergama) Ancient City
The ancient city, which has 8500 years of history, is in the town of Bergama, 100 kilometres away from the city. It is known that natural treatment methods were used for the first time in the city, which made its name as a centre of culture, science, and art in the Hellenistic period. Bergama is listed among the 100 historical cities of common importance in the Mediterranean Basin by the United Nations.
Clock Tower (Saat Kulesi)
Located in Konak Square, the tower was built in 1901 by the Ottoman Sultan Sultan II. It was built to celebrate the 25th anniversary of Abdulhamid's accession to the throne. The clock of the tower is the German Emperor II. It was gifted by Wilhelm.
Historical Elevator (Tarihi Asansor)
The elevator, which was built in 1907 to connect Mithat Pasa Street and Halil Firat Pasa Avenue, was built by Jewish businessman Nesim Levi. Izmir can be viewed from a bird's eye views from the historical elevator.
Izmir Archaeology Museum (Izmir Arkeoloji Muzesi)
Located in the centre of Konak, the museum was opened to visitors in Ayavukla Church in 1927. Various artifacts from the Hellenistic, Roman, and Byzantine Periods obtained from the excavations are exhibited in the Izmir Archaeology Museum.
Kadifekale
B.C. Kadifekale, which was built by Lymachos, one of the generals of Alexander the Great in the 4th century, has 5 towers and a part of its wall. A magnificent view of the bay can be watched from the castle.
Izmir History and Art Museum (Izmir Tarih ve Sanat Muzesi)
The museum, which was opened to visitors in 2004, is in Kulturpark. Artifacts obtained from excavations in and around Izmir; It is exhibited in three separate sections: Stone Works Department, Ceramic Works Department, and Precious Works Department
Izmir Festivals
The entertainment life of Izmir, whose beauty is not limited to its nature, history, and food, is also very active. There are many options for entertainment in the city, where another festival and festival are held almost every season. Izmir Festivals, which we recommend you attend when the dates coincide with your trip, and where you will have enough fun:
Alacati Herb Festival (Alacati Ot Festivali)
Retro Festival
Jazz Festival (Caz Festivali)
Chocolate Festival (Cikolata Festivali)
Coffee Festival (Kahve Festivali)
Booz Festival (Boyoz Festivali)
International Izmir Theatre Festival (Uluslarasi Izmir Tiyatro Festivali)
Izmir Hotels
If your travel route is Izmir, we recommend that you make a holiday plan beforehand. With Edwin Holidays early booking opportunities, you can choose the one that suits you best among hundreds of hotels and spend a luxurious holiday at affordable prices, especially in the city where there is a high density of holidaymakers in the summer months. Izmir hotels offer alternatives for all tastes and budgets, with many accommodation options such as all-inclusive, full board, boutique hotels.
Popular Neighbourhoods of Izmir
Karsiyaka
Karsiyaka, which you can reach with a pleasant 15-minute ferry ride from different parts of Izmir, is among the most popular regions of the city with its proximity to the beach, street flavours, and transportation opportunities. Karsiyaka hotels:
Best Western Premier
Hilton Garden Inn
Ozdere
Located approximately 70 kilometres from the centre of Izmir, Ozdere is in an ideal location for those who want to have a quiet holiday away from the noise of the city. You can enjoy the sun in many bays in the region and refresh your soul in its magnificent nature. Ozdere Hotels:
Club Marvy
Gumuldur Mavi Deniz Hotel
Urla
Located approximately 40 kilometres from the city centre, Urla has many beauties to be seen with its nature intertwined with history, hidden coves, and beaches. If you go to Urla, you can witness the most beautiful views of Urla from the Security Hill in Cesmealti. Urla Hotels:
Manej Urla Hotel
Siz Inn Hotel Urla
Naturla Lake House
Barba Hotel Urla
Urla Pier Hotel
Urla Pera Hotel
Hotel Yorgo Seferis Residence
Alsancak
Located approximately 10 kilometres from the city centre, Alsancak is one of the most popular districts of Izmir with its romantic sunsets, stylish restaurants, and various shops. If you want to visit and have fun during your Izmir Holiday, you should stop by Alsancak. Alsancak Hotels:
Balca Hotel Izmir
Mb City Hotel
Bornova
Located 8 kilometres from the city centre, Bornova also includes many historical monuments such as Maltas House, Belhomme House, Santa Maria Catholic Church, Paterson Mansion, due to its hosting of different cultures in its past. Bornova Hotels:
Anemon Ege Health
Ibis Style Bornova
Villa Levante Hotel
Coordinate Suits
Konak
Konak is known as the culture, art, and entertainment centre of Izmir. There are many historical buildings such as Agora, Kemeralti Bazaar, Clock Tower, Historical Elevator that you can visit in Konak. Konak Hotels:
Grand Corner Boutique Hotel
Ustun Hotel Alsancak
Volley Hotel
Ontur Izmir Hotel
Ismira Hotel

Cigli
Cigli, which is about 27 kilometres from the city centre, is also called Bird Paradise. Home to many bird species, the district also has a Natural Life Park that you will enjoy exploring, and areas where you can have a picnic and enjoy the fresh air.
Anemon Cigli Hotel
Avwan Hotel Cigli
Cesme
Located 88 kilometres from the city centre, Cesme is famous for its beautiful bays and beaches. In addition to its clean and calm beaches, Cesme offers unlimited entertainment to holidaymakers with its vibrant nightlife.
Reges A Luxury Collection Resort
Babylon Hotel
Reges A Luxury Collection Resort & SPA
Vadi Boutique Hotel
Double Tree Hilton Hotel