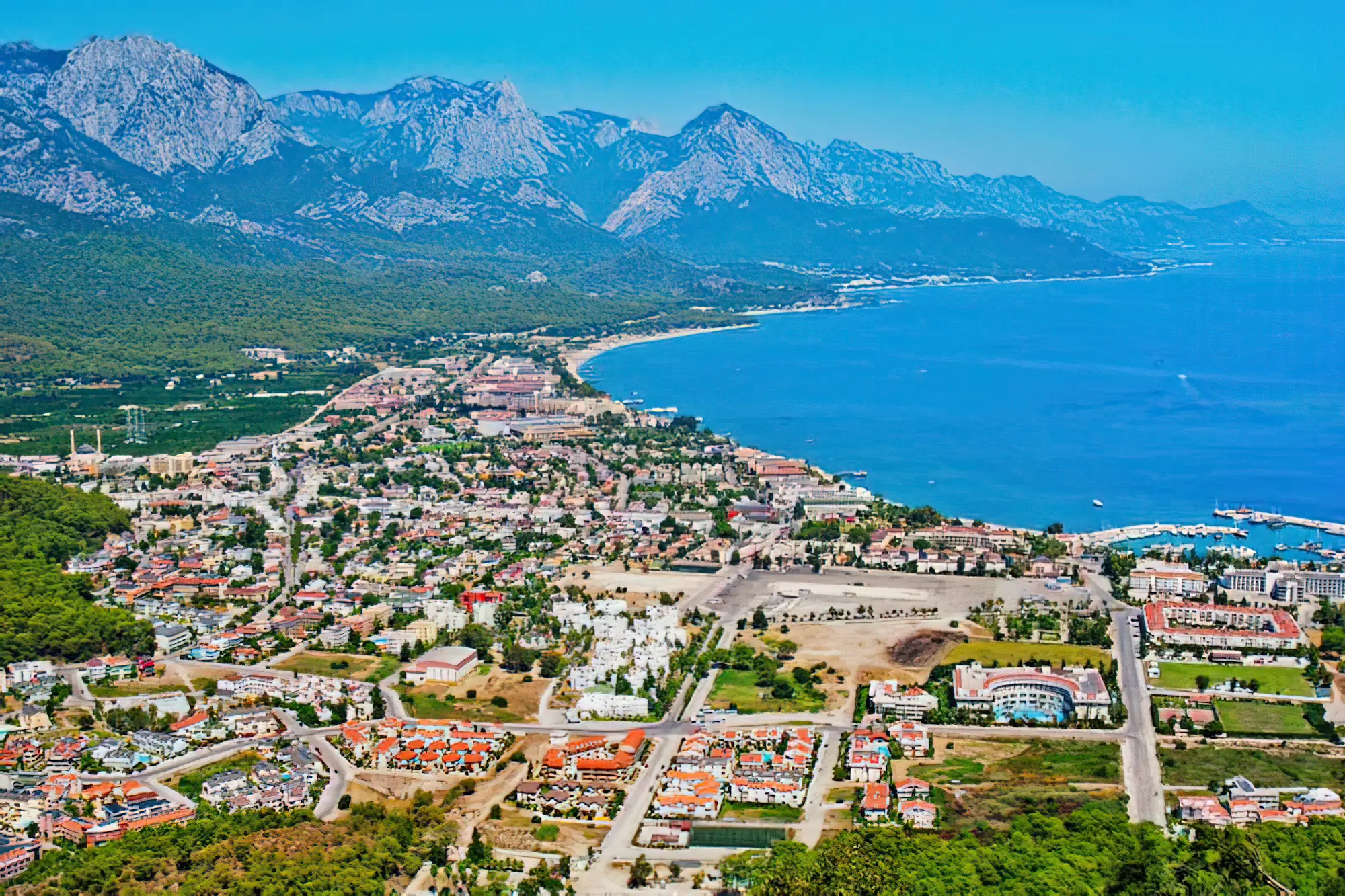 Kemer
Kem
Kemer
Located 40 kilometers from the city center, Kemer is the most popular district of Antalya with its developed summer tourism. It got its name from the stone wall built by the villagers to protect it against the flood that may come from the Taurus Mountains. History BC In the district, which dates back to 690 BC, there are prehistoric ruins to be discovered as well as the wonders of nature.
When to go to Kemer for a holiday?
The district, where the Mediterranean climate is seen, has the most intense period in the summer season, although it welcomes tourists in all four seasons. Towards the winter months, this intensity leaves its place to calmness. If your preference is to have a holiday in an environment where the sun is not overwhelming, the scent of flowers surrounds the region and the crowd is not yet dominant, you can plan your trip for spring.
How to go to Kemer?
For transportation to Kemer by air, bus companies can be reached from Antalya Airport, which is the closest airport to the district. Antalya Airport is located 57 kilometers from the town center. For land transportation, you can reach the bus companies that organize direct flights from other cities to the district.
Historical and Natural Beauties of Kemer
With its deep blue sea, nature with the most beautiful shades of green and cultural diversity, Kemer hosts many touristic places where you can both take a vacation and witness history. Places to visit in Kemer;
Goynuk Canyon (Göynük Kanyonu)
Located 13 kilometers from the town center, the canyon is located on the "Lycian Way", which is considered one of the best 10 long-distance hiking routes in the world. The region, where various nature and water sports can be done, is also the Beydağları Coast National Park. Edwin Holidays, hotel recommendation near Göynük;
- Mirage Park Resort
- Kimeros Park Holiday Village
- Queens Park Göynük
- Seven Seas Hotel Life
- Fame Residence Göynük
- Eldar Resort Hotel
Rock Shelters (Kaya Sığınakları)
The Rock Shelters, bearing traces of the Paleolithic, Mesolithic and Neolithic ages, are located approximately 20 kilometers from the district. There are schematized human and animal figures inside the bunker.
Paris Wreck (Paris Batığı)
The French ship named Paris 2, sunk by the Turkish officer Mustafa Ertuğrul in 1917, is among the top 100 shipwrecks in the world. The Paris Shipwreck, located 1.5 kilometers off the Kemer Marina, offers unforgettable experiences especially to those who are interested in diving.
Chimera (Yanartaş)
The unquenchable fire of Olympos is located in Çıralı, which is about 30 kilometers away from Yanartaş town centre. The fire that burned from the gas leaks coming out of the stones turned into small and many flames over time. We recommend you to visit Yanartaş, one of the most important natural beauties of the region, during the daytime. Thus, you can discover historical ruins that show that there was life around Yanartaş. Edwin Holidays hotel recommendation close to Yanartaş;
-Kimera Lounge Hotel
Adrasan Bay (Adrasan Koyu)
Adrasan Bay, which is about half an hour away from the town center, is surrounded by pine trees, has a clean beach and does not deepen quickly, and is ideal for families with children. There are many activities in Adrasan Bay where you can participate in water sports, boat tours and nature walks. Hotels close to the region for those who want to have a daily and overnight holiday;
-Adrasan Klados Hotel
-Papirus Hotel Adrasan
-Likya Adrasan Hotel
Tahtali Mountain (Tahtalı Dağı)
Tahtalı Mountain, which will lay the unique landscapes of Antalya under your feet, is located in the Beydağları National Park. You can reach the summit in 10 minutes with the Olimpos Cable Car, the second longest cable car in the world. You can double your holiday pleasure by paragliding, trekking, Bungee-Catapult and trekking on Tahtalı Mountain.
Phaselis (Faselis) Beach
In the area called Phaselis Beach, there are 3 separate bays that were harbors at the time. Each of the beaches called Central Port Beach, South Port Beach and North Port Beach, where you can enjoy the sun together with the quiet, calm and historical ruins, away from the city rush, are each of a different beauty. In general, the sea is clear and shallow, and the floors of the beaches are pebbles from place to place. Phaselis Beach is approximately 15 kilometers away from Kemer, within the Olympos Beydağları National Park.
Beldibi
Beldibi, one of the favorite resorts of tourism, is located 15 kilometers from the town center. Beldibi has a fascinating natural beauty and historical texture. If you have organized a trip to the region, we definitely recommend you to visit Beldibi Cave, Beydağları National Park and Göynük Canyon.
-Champion Holiday Village
-Corendon Playa Kemer
-Crystal Flora Beach Resort
-Larissa Hotel Beldibi
-Seagull Hotel
- Club Med Palmiye
Tekirova
Although the town, surrounded by mountains on 3 sides, has a smaller structure compared to other tourism points in the region, Tekirova is a center of peace and tranquility. If you are planning a full holiday where you will enjoy the sun on its clean blue flag beach and witness scuba diving and dozens of creatures, you should definitely visit the town.
-Pirates Beach Club
-Euphoria Tekirova Hotel
-Dream Town Hotel
Olympos
The history of the Ancient City of Olympos, which is 40 kilometers away from the center of Kemer, dates back to 300 BC. The ancient city, which has traces of the Hellenistic period, is one of the most popular places where you can rest your soul and spend a peaceful holiday in nature. Since the region is the breeding area of ​​Caretta Caretta turtles, it has been taken under protection as a protected area. Edwin Holidays, hotel recommendation near Olympos;
-No:1281 Boutique Hotel
-Koala Bungalows
Activities to Do in Kemer
Kemer offers many activities that you can do in its magnificent nature with its long coastline, rich history, clean air. The district, which has special alternatives for every age, understanding of entertainment and holiday pleasure, has become the indispensable address of tourists. In Kemer hotels, you can experience animation shows, SPA services that will refresh your soul, and unique tastes from Turkish and world cuisine. You can also save unique memories during your holiday by participating in rafting activities in Göynük Canyon, camping in Olympos, paragliding in Tahtalı Mountain, and diving activities where you can discover underwater ruins in Paris 2 Swamp.
Kemer Nightlife
Kemer, which spends its most active times especially in the summer, has a lively nightlife as colorful as the day is. There are many popular places in Kemer, where you can find options for every taste and entertainment concept. If you want, you can accompany the Mediterranean view in stylish restaurants, or you can have fun in the places where you can dance until the first light of the morning. Popular entertainment venues in Kemer;
-Fly Club
-Klub Kristall
-Aura Club Kemer
-Club İnferno
-Monkey Disko Bar
Shopping in Kemer
There are shops selling products of domestic and foreign brands in the town center. You can buy Kemer souvenirs for yourself and your loved ones from these shops. You can visit the market on Atatürk Boulevard on Monday and find fresh fruits and vegetables, jams and spices, and you can find souvenirs from the textile-based markets on Deniz Street on Tuesdays.
Kemer Hotels
There are many hotels where you can find comfort, luxury and peace together in Kemer, which makes you feel like in a garden of paradise with its deep blue sea, magnificent nature and golden beaches. Kemer Hotels offer different accommodation options such as all inclusive, ultra all inclusive and hostel. In addition to these, you can choose from various themes such as honeymoon hotels that will allow you to have a romantic holiday, and child-friendly hotels that will allow you to stay comfortably with your family. In Kemer hotels, you can experience animation shows, SPA services that will refresh your soul, and unique tastes from Turkish and world cuisine.
- Pirates Beach Club
-Mirage Park Resort
- Club Marco Polo
- Corendon Playa Kemer
Ultra All Inclusive Kemer Hotels
-Özkaymak Marina Otel
-Crystal Flora Beach Resort
-Seven Seas Hotel Life
-Queens Park Le Jardin Resort & Spa